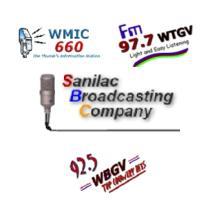 Want to contact this business?
Ways to reach this business.
19 South Elk, Sandusky, MI, 48471
Story & History about this business.
Sanilac Broadcasting, home of WMIC AM 660 – News Talk and Information; WTGV 97.7 FM ; WBGV 92.5 FM. Broadcasting & media production company. Toll Free: 877-257-0925 Fax: 810-648-3242 Advertising Inquiries: nickl@sanilacbroadcasting.com News Department: aricaf@sanilacbroadcasting.com Swap Shop: 810-648-6600
Engage with this company on social.
Map & directions to this business.
Easily contact this business by submitting a message below.